Grant County Recreation Gymnastics
Gymnastics is a great way to increase your child's balance, flexibility, and strength. All classes except for Tots are based on skill level. If your child has never done gymnastics, they should be in the beginners' class. All boys should sign up for the boys' strength and balance class. If you are not sure what class your child should be in.
Tots (ages 3-4)
We are offering a class to introduce your kids (ages 3-4) to the basics and fundamentals of gymnastics in a fun and exciting way.
Our classes are designed to develop and hone your child's motor skills and coordination through interactive game playing, beginning strength and endurance training, and lots of fun designed specifically for the young mind.
Mini Stars
This class is designed for children who are young aged and are wanting to do more gymnastics. Intermediate is a more structured environment. We emphasize the method of technical coaching to the children through skill-specific, shaping, and strength. Most of all we have fun!
Advance / Beginners
Our Advance / Beginners (Girls and Boys) classes teach the basics of gymnastics while improving strength, coordination, flexibility, balance, agility, confidence, and social skills for children of all ages and abilities. Girls work on all girls gymnastics events, including Vault, Floor, Beam, and Bars, as well as Trampoline and Pit.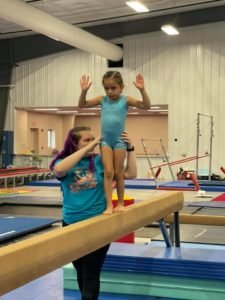 GCRC List of Parties
We allow parties for all occasions:
Birthdays
Nerf War Party (1-Hour max)
Gymnastics Party (1-Hour Max)
Among Us Party
Retirement Party
Graduation Party
Baby Showers
Bridal Showers
Anniversaries
Family Reunions
Church events
Wedding Reception
To schedule a party or event, please call (620)356-4233 Ext. 5. If no answer please leave a message. Call to get updated prices on our packages. During the summer, we allow parties to be booked during the week.
**All other kid parties/dances are held at Activity Center